email at palmerhaas-at-yahoo.com
Contributors
you should be listening to

The Constantines -
Shine A Light

---------

::LINKS::

---------
News Sources

--------------
Blogs I dig
Knife of Simpson
fave Chicago rock band

Suburban Limbo
- fave blog now blogging again!!

This Is Hell
left-wing radio show

get donkey!-Lib'rul TX Blog

American Leftist - Liberal blog from ????
Ted Barlow's Blog -thinks concurrently to BMA

Fanatical Apathy-Funny as hell Felber blog

Liberal Desert-former US Rep now lawyer in AZ

Danny Doom-Chicago Rocker first, blogger second

Tom Tomorrow-righteous venom in cartoon form

The Link Farm-BMA linkpad

The Chasbah-Brit ex-pat / Mac addict now living in Hell.. uh I mean Orlando

Ultra Deb's Rant-o-Rama-raging bitchy foul mouthed liberals are very sexy

Where's Raed? blog straight outta Baghdad yo!

Counterspin Central-another lib blog outta MI

ArchPundit - outta St Louis, or IL?

Electablog - 2004 Election coverage.
Air America Radio - getting stronger
David Sirota needs a better looking blog for god sakes
Granny Rant-Blogger who wrote me unsolicited

The Grand Old Party-Highly Entertaining GOP parody site

Sassafras Blog-Lib. Blog w/ lotsolinks

Sand in the Gears - conservative web debate

Common Space - she likes BMA's blogname

-------------------
Reach Em High Cowboy Network Noose-Liberal, & a Cowboy

Folkbum's Rambles and Rants-Milwaukee blog

Rush Limbaughtomy - love the name

Apathy Inc. - need more than that?
blogrolling page for Open Source Politics
Radio Links
WZRD Record Reviews - BMA neglected sideblog

WNUR - Northwestern U Radio

WSOU - Seton Hall Radio

WLUW - Loyola Chicago Radio

WFMU - Bitchin Indy Radio in NJ

Other Radio Sites
Live365 - Internet Radio Central

Other Stuff
GoStats-provides counter

Previous Posts
Friday, January 24, 2003
The epitome of what is wrong with our government, our economy and our President -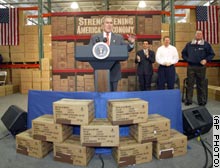 President Bush stands in front of boxes which had "Made in China" labels obscured.
(image found on
CNN.com
)